Regular Automotive Maintenance in Rowlett
Oil & Filter Changes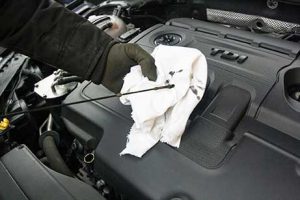 First, our techs will inspect the level and condition of the engine oil, to see if there is any oil burning or contaminants in the oil, such as coolant or small metal shavings. After inspecting for any possible issues, the oil will be drained and the oil filter removed. After the oil has been drained, the oil drain plug will be put back in and tightened to the correct torque specification, to ensure it does not come loose and leak oil. Then we will install a new, clean oil filter that's the correct type for your engine.
Once the drain plug and filter have been installed, we will refill the engine to the correct amount with the right type of oil for your vehicle, no matter if it is a new synthetic blend or regular oil. After the oil's been refilled, our techs will start the engine to make sure that oil pressure is correct, and then check the oil level again to ensure it has been filled to the correct amount. If there have been any small splashes or spills on your engine during this process, our techs will make sure to clean them up. And if you have a newer vehicle that has one of those annoying Oil Maintenance lights on the dash, we will make sure to reset that for you, too.
---
How Often Should Oil & Filters be Changed?
Most vehicle manufacturers recommend changing your oil and filter every 3000-5000 miles. For newer vehicles that use synthetic oil, the service interval for an oil change can be up to every 10,000 miles. No matter the age of your vehicle or the type of oil it needs, our techs at Lamberts Automotive in Rowlett, Texas have you taken care of.
Having your oil changed at the correct service intervals and using the correct type of oil will help to prolong the life of your engine by keeping it lubricated and running smooth. Regular vehicle maintenance and inspection will help keep you vehicle in the running well.
---
Get Your the Oil Changed in Your Car
If you are in need of an oil change, or any other sort of vehicle maintenance or inspection, give us a call at 972-475-0906 or stop on by Lamberts Automotive at our location in Rowlett, Texas and we will be happy to get your vehicle looked at.